Ok, when I told Mr. Squeeze we were having Spatchcock chicken on the Big Green Egg he looked a bit alarmed. Needless to say, it was the easiest recipe ever. Invest in a good pair of kitchen shears for cutting poultry, the process was a breeze, and honestly, the chicken cooked even all around. The meat was juicy and the skin was crisp.
This may become my absolute favorite way to cook an entire chicken on the big green egg!.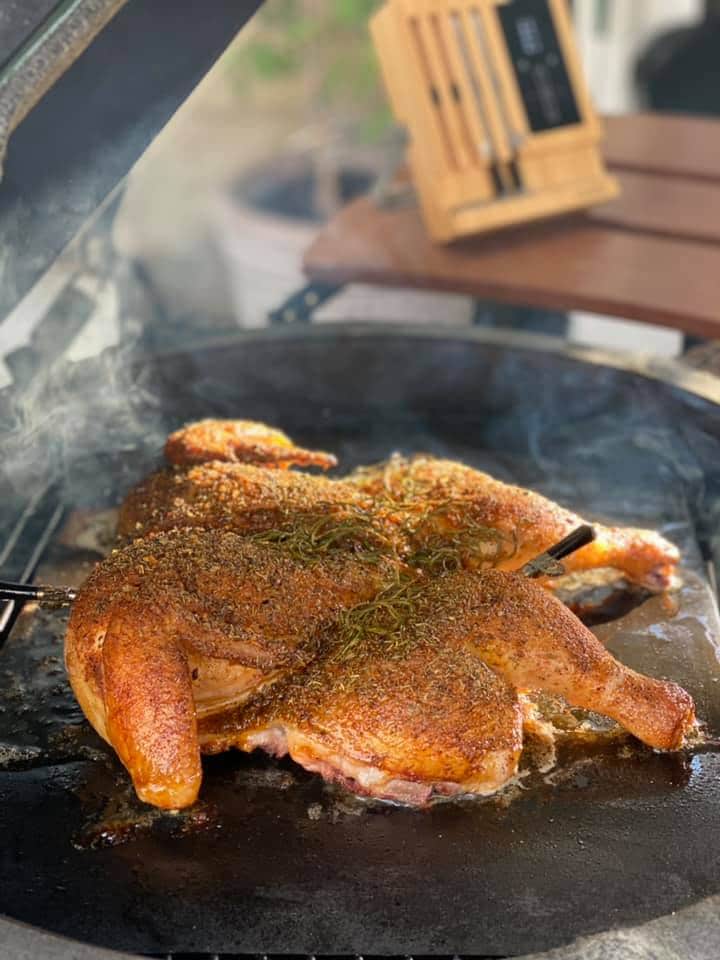 Spatchcock Chicken
A little snip here and there and minor surgery of removing the backbone and this spatchcock chicken was a crowd-pleaser. Mr. Squeeze is still raving about the juiciness and tantalizing tenderness.
Equipment
The Big Green Egg

Plate Setter

Drip Pan

Meat Claws

Meater

Pastry brush

EGGpander
Ingredients
1

organic whole chicken

1½

tbsp

fresh rosemary 

(stems removed)

favorite chicken rub

2

tbsp

extra virgin olive oil
Instructions
First, spatchcock the chicken by removing the backbone. To do this, take a sharp knife and cut along each side of the chicken's backbone.

Once the backbone has been removed, flip the bird over, and press down breaking the breastplate. This will get the bird to lay completely flat.

For the dry brined chicken, sprinkle kosher salt all over the surface of the chicken's skin. Salting the skin this way helps to denature the bird but it also pulls out all the moisture thus drying the skin. Once the skin side has been salted, place on a wire rack on top of a baking sheet, then into the fridge (uncovered) overnight.

24 hours later remove the bird from your refrigerator. You will notice the skin is dark yellow and very dry. This is what you want and the SECRET to crispy skin.

Once the Big Green Egg is set and you see clean smoke, place the chicken inside. I am using the EGGspander which raises the cooking surface to the felt line. I find that cooking the bird higher in the dome helps with crispy skin.

Apply a little hot sauce to each side of the bird as a binder, then sprinkle generously with paprika, salt, and black pepper. You can also use your favorite BBQ rub too.

Leave the bird undisturbed in the Big Green Egg for an hour before checking. At that point, you should see beautiful color forming on the chicken and when you touch the surface, crispy skin! At the 1 hour 20 minute mark the chicken probed at 165° in the breast (using my Meater) which means it is done.

Enjoy! Well worth the time. Juicy!
Video
Notes
Hey there juicy bird: Once you pull your bird off the big green egg don't hesitate to rub with your favorite BBQ sauce.  The meat is superb and so incredibly juicy! 
Did you make this recipe?
Please let me know how it turned out for you! Leave a comment below and tag @beckyrickett on Instagram and hashtag it #feedingmrsqueeze.