If you have never smoked herbed prime rib on the Big Green Egg it can seem intimidating but don't let this beefy chunk intimidate you. Smoking herbed prime rib on a kamado style grill is surprisingly a very easy cook to do and it is excellent for any holiday or family gathering. If you follow this simple cooking process you wont be sending anyone home hungry! Mr. Squeeze approves!
The evening before my big cook-off, I applied a layer of salt to the entire meat, covering all sides with a good dusting. I put it in the fridge, uncovered, overnight. This allowed the meat to absorb the salt and created the juiciest prime I have ever tasted. Don't hesitate on this step. I removed it 2-hours before preparing the luscious buttery rub.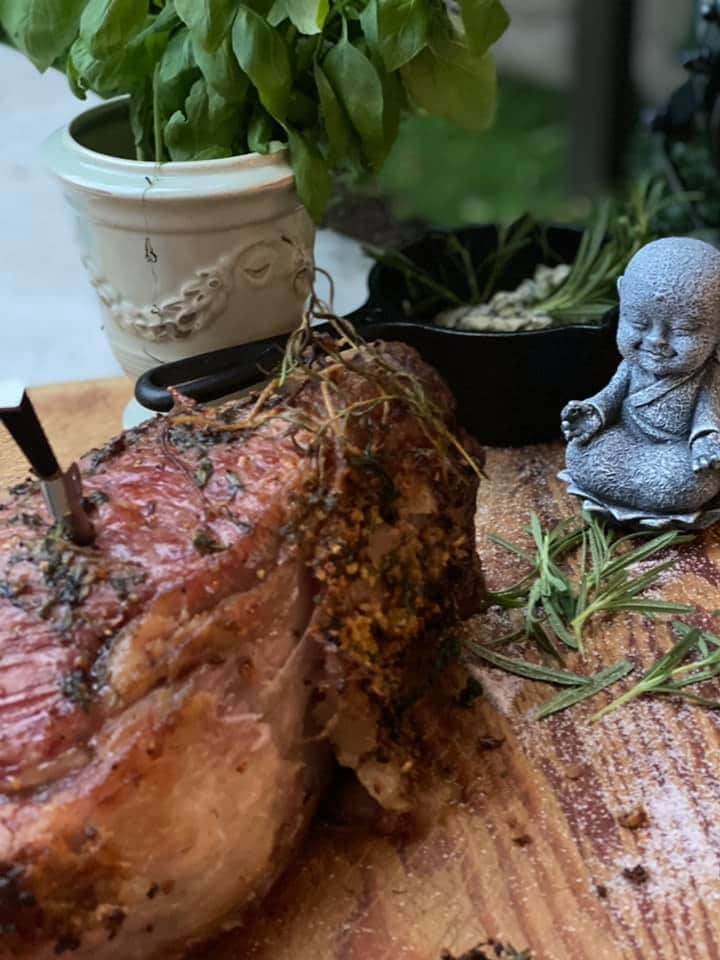 Herbed Prime Rib
The ultimate go to recipe for the most succulent, mouth-watering main dish. . The meat was incredibly juicy and pure orgasmic in the mouth.
Equipment
Big Green Egg

ConvEGGtor

Drip Pan

Meat Hooks

Sharp knife
Ingredients
2

lb

bone-in standing rib roast

1

tsp

kosher salt 

1

tsp

pepper

1

tbsp

finely chopped fresh basil

1

tbsp

finely chopped fresh tarragon

1

tbsp

finely chopped fresh rosemary

4

tbsp

salted butter, at room temperature

I used 1/2 cup of butter 🙂
Instructions
The evening before your big cook, apply a layer of salt to the entire meat, covering all sides with a good dusting. Place the rib back in the fridge, uncovered, overnight.

One or two hours before you plan to cook, take the roast out of the refrigerator. Prepare the EGG to cook indirect – with a drip pan on the convEGGtor – at 350°F. 

Season the roast on all sides with salt and pepper. In a small bowl, combine the butter, basil, tarragon and rosemary and mix well. Spread the herb butter all over the roast, applying the heaviest layer to the fat cap.

Place the roast, fat side up, on the EGG cooking grid and cook for about 2 hours, or until it reaches an internal temperature deep in the center of 125°F for medium-rare. I cooked mine to 130°F as I prefer my prime at medium.

Transfer the roast to a platter, tent loosely with foil and let rest for at least 20 minutes as it will continue to cook. Cut the meat away from the bones and slice the roast thickly or thinly against the grain as desired. Separate the leftover beef rib bones and serve them along with the meat.

Or in my case I shared with my little Louie (Maltese) his tummy was full as well. 🙂

<iframe width="560" height="315" src="https://www.youtube.com/embed/xU2mKDHEKOQ" frameborder="0" allow="accelerometer; autoplay; clipboard-write; encrypted-media; gyroscope; picture-in-picture" allowfullscreen></iframe>
Video
Notes
Rule of thumb:  Purchase one 1 rib per every two people. So a 4 rib roast would serve 8 people. I bought a 2 rib roast for 4 guests. It's uncooked weight is about 2 lbs and the portion was a 6oz rib.
Did you make this recipe?
Please let me know how it turned out for you! Leave a comment below and tag @beckyrickett on Instagram and hashtag it #feedingmrsqueeze.