A super fun and effective way to cook a chicken. The chuckles of this Beer Can (Butt) Chicken from Mr. Squeeze was worth the experience. The steam from the beer cooks the inside of the bird, so the meat ends up so juicy and lovely!
Feel free to mix it up a bit with your favorite rub, we chose rosemary from the garden and one of our favorite poultry seasoning. Next time, we are going to rub her up with BBQ sauce.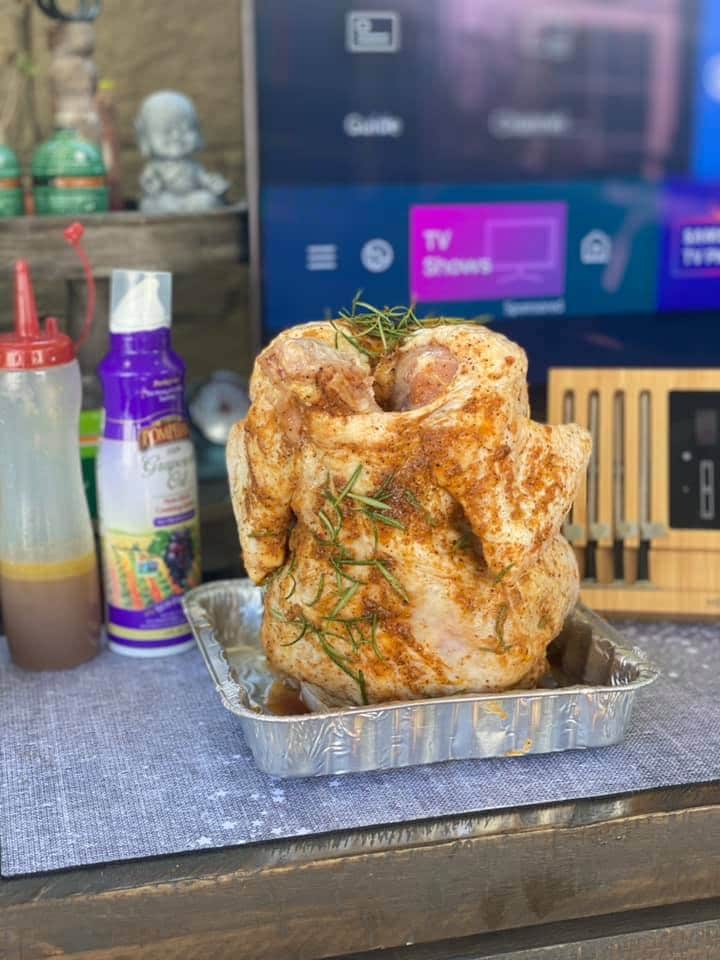 Beer Can (Butt) Chicken
Some may call this "beer butt chicken" which I did when I told Mr. Squeeze what was for dinner. The look on his face was priceless!
Equipment
The Big Green Egg

ConvEGGtor

Spray Bottle
Ingredients
1

4-6 lb chicken

1

12oz

beer

(I used an orange-flavored beer)

1

cup

apple cider

2

tbsp

olive oil

2

tbsp

balsamic vinegar
Instructions
Apply your favorite rub all over the chicken, even inside the cavity. Work the mixture gently into the skin and under the skin wherever possible. Cover the chicken and set aside at room temperature for 30 minutes.

Pour half of the beer into the spray bottle. Add the apple cider, olive oil, and vinegar and set aside. If using the Ceramic Roaster, pour the remaining beer into the cavity of the Roaster and slide the chicken onto the Roaster, through the tail end. If using the beer can, slide the chicken down over the can.

Place the chicken, still on the Roaster, on the grid and close the lid of the EGG. Cook, using the spray bottle to baste the chicken once or twice, for 20 minutes, or until the chicken is just beginning to brown all over. Carefully lift the chicken (still on the Roaster) into the Drip Pan and close the lid of the EGG. Cook, spraying the chicken with the basting spray several times, for 45 minutes to 1 hour, until the internal temperature of the thigh reaches 170°F/77°C and the chicken is a mahogany brown color. Using barbecue mitts remove the chicken and present it on the Roaster to your guests. After they have reacted appropriately, remove the chicken from the Roaster. Be careful: The can and the liquid inside are very hot.

Spray the chicken once more with the basting spray, cover with foil, and let rest for 10 minutes. Carve and serve.
Video
Notes
What is Beer Butt Chicken? We got the biggest chuckle over the name, but basically cooking the chicken upright with a can of beer as the base infused our bird with a delicate hint of orange.   LOVED!
Did you make this recipe?
Please let me know how it turned out for you! Leave a comment below and tag @beckyrickett on Instagram and hashtag it #feedingmrsqueeze.